Spend your summer on the Garden Route
Posted on Thu September 13, 2018.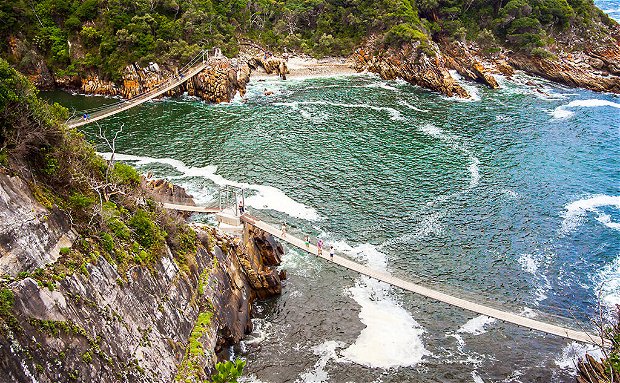 With South Africa's summer months approaching, what better way to spend your holiday than along the coastal Garden Route in South Africa. A scenic meander between Port Elizabeth and Cape Town, you must stop off at all the charming towns in between.
It's time to get up, gather your essentials, and get yourself to South Africa! Here are some of the hotspots worth visiting.
Nelson Mandela Bay
The watersport capital of South Africa is none other than the city of Port Elizabeth (PE). Port Elizabeth also serves as a convenient gateway to the Garden Route and makes for a great starting point for your travel endeavours. What better way to start your journey than basking in the fantastic weather on the beautiful beaches of Port Elizabeth. Or head down to the surfing mecca of Jeffreys Bay, only 45 minutes from PE, to catch some waves at Supertubes and get some awesomely discounted beachwear at the Billabong factory store.
Tantalising Tsitsikamma
Filled with towering forests and luscious green scenery, Tsitsikamma is situated along the Garden Route and a popular spot among tourists. With hiking trails and the Storms River suspension bridge nearby, Tsitsikamma is the perfect area to spot birdlife and enjoy forest walks along this part of the southern coast.
Sand, sun, Sedgefield
The small beach town of Sedgefield is situated between Plettenberg Bay and Wilderness and is home to beautiful beach homes, vibey backpackers, an amazing coastline, and plenty of activities to do. After a full day of outdoor adventure, and lazing around at Myoli beach, what better way to kick back and relax than at Pili Pili, a local bar and restaurant, where you can feast on local South African cuisine with your feet in the sand.
The wild, wild Wilderness
Another small town situated along South Africa's Garden Route is Wilderness. It is home to beautiful stretches of beaches as well as the famous Map of Africa, a lookout point on top of a hill offering panoramic views of the great Indian Ocean, Outeniqua Mountains and Kaaimans River. It is also home to the Wilderness National Park where you can spot some of Southern Africa's wildlife in their natural habitat.