Mountain Zebra National Park

Addo Elephant National Park
Addo to Karoo 4 Day Safari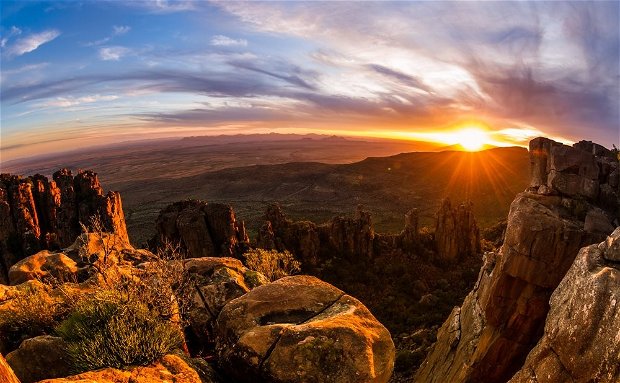 This complete Eastern Cape safari experience covers 3 breathtaking National Parks, The Addo Elephant National Park, Mountain Zebra National Park and the Camdeboo National Park. Enjoy this pristine malaria free region with the Big 5 in their natural environment.
Day 1 is spent in the Addo Elephant National Park on a full day safari. Addo is the third largest national park in South Africa and home to a huge variety of wildlife, including more than 700 elephants, as well as lion, the endangered black rhino, Cape buffalo, leopard, spotted hyena, antelope, an array of bird species, and the very unique Addo flightless dung beetle. The overnight location is on the edge of the national park.
On day 2 the tour heads to the Mountain Zebra National Park. Opened in 1937, this park initially provided a nature reserve for the endangered Cape Mountain Zebra. Today the park has more than 700 species of wildlife including zebra, cheetah, lion, buffalo, eland, kudu, black wildebeest, red hartebeest, blesbok and gemsbok. Also known for its sightings of some rare wildlife, like the aardwolf, bat-eared fox and caracal. The combination of wildlife and landscape provide the perfect recipe for any nature. On arrival the afternoon will be spent on a 2 hour game drive. The overnight location for tonight is inside the national park.
After an early start, day 3 starts off with a once in a lifetime chance to track wild cheetahs on foot with your game ranger. The next 3 hours will be spent locating these elusive big cats an approaching them on foot to get a better understanding of their behavior.
Next up the tour heads to Nieu Bethesda, a village in the Great Karoo heatland of South Africa. A massive arid part of the country that spans more than 400 000 square kilometers. Situated at the foot of the Sneeuberge Mountains, this little village offers vast open plains, majestic mountains and champagne air. The overnight location will be in the village of Nieu Bethesda.
Day 4 starts off with a visit to the legendary "Owl House", a famous landmark in the village of Nieu Bethesda. Enjoy the quirky sights and sounds of this unique town. Next up the tour heads to the Camdeboo National Park. Inside the park, only a stone's throw from one of the oldest towns in South Africa, Graaff-Reinet lies the majestic valley of desolation. This awe inspiring valley is the product of the volcanic and erosive forces of nature over a period of 200-million years, its many rock columns, formations and never ending views provide some of the most unique scenery in South Africa. Enjoy the endless views and the feeling of total isolation.
After lunch the the tour departs back to Port Elizabeth.
Gallery
4 Day Addo to Karoo Safari
Rates
From R 11 250,00 per person sharing
Includes:
- Entrance Fees to all National Parks
- Full day Addo Elephant Park Game Drive
- Overnight accommodation on the Sundays River in the Addo Elephant National Park area (4 Star)
- Full day Mountain Zebra National Park Game Drive
- Overnight accommodation inside the Mountain Zebra National Park (3 Star)
- Cheetah Tracking in the Mountain Zebra National Park
- Owl House entrance fees
- Overnight accommodation in Nieu Bethesda (4 Star)
- Camdeboo National Park (Valley of Desolation)

Meals Included:
- 3 Breakfasts
- 3 Lunch's
- 3 Dinners