Tsitsikamma National Park
Tsitsikamma National Park Day Tour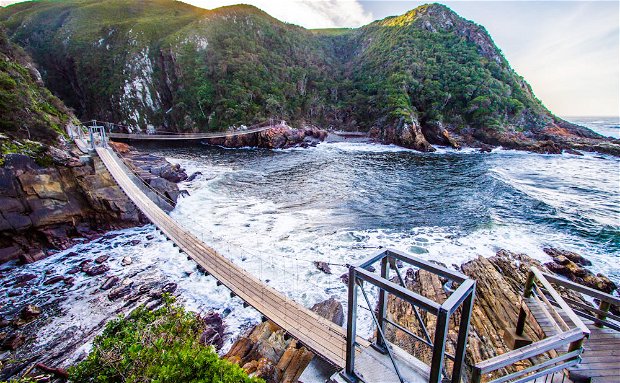 This full day tour starts and ends in Port Elizabeth and heads towards the Tsitsikamma National Park, arguably the most beautiful National Park in South Africa.
This tour includes a 2-3 hour Kayak and Lilo experience up the Storms River gorge and a guided hike through the pristine indigenous forest.
Enquiries: [email protected]
The Tsitsikamma National Park is a protected area on the Garden Route, in the Western and Eastern Cape province of South Africa. It is a coastal reserve well known for its indigenous forests, dramatic coastline, and the Otter Trail. In 2009 the park was amalgamated with the Wilderness National Park and various other areas of land to form the Garden Route National Park.
The park covers an 80 km long stretch of coastline and is a haven to a variety of marine species and indigenous flora. The Tsitsikamma National Park boasts unique and spectacular scenery in this magical part of South Africa. 
The word "Tsitsikamma" hails from the Khoi language meaning place of much water. Probably referring to the clear water of the Tsitsikamma River.
Gallery
Itinerary
Full Day Itinerary
08h00: Hotel pick ups
08h30: Depart from Port Elizabeth to Tsitsikamma National Park
11h00: Arrive at Tsitsikamma National Park
12h00: Start of Kayaking and Lilo excursion 
15h00: End of Kayaking and Lilo excursion
16h00: Start of hike
17h30: End of hike
18h00: Depart for Port Elizabeth
20h00: Arrive in Port Elizabeth
Rates
R 2450,00 per person
Includes: Pick up & drop off from accommodation establishment, National Park entry fees, 3 hour guided kayak & lilo experience & a short hike.
Excludes: Meals & refreshments