5 Day Central Wildcoast Explorer Tour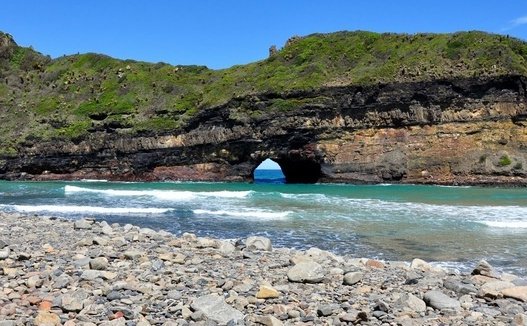 Get to experience the heartbeat of rural South Africa on this 5 day tour that covers the breathtaking central wildcoast region of South Africa.
Day 1: Port Elizabeth to Chintsa
The first stop on our adventure takes us to the coastal village of Chintsa. This small piece of paradise lies at the start of the rugged wild coast at the mouth of the Cintsa River. Our overnight location is located on a hill that overlooks a stunning lagoon that meanders into the sea. On arrival, spend some time exploring the gorgeous beach, right on our doorstep or just relax and take it easy.   
 Day 2: Chintsa to Lubanzi Village
After an optional activity morning we depart from Chintsa to Lubanzi Village. Lubanzi is a tiny Xhosa village in the middle of nowhere. This is where the road ends, this is where the sea and the sky meet, where the sun kisses the waves and the rhythm of life is still pure and undisturbed. On arrival, the rest of the afternoon is all yours to explore this hidden paradise.  
 Day 3: Lubanzi Village to Coffee Bay
After a leisurely start to the day we spend the morning hiking to "Hole in the Wall", a nearby attraction in the area with amazing views of the coastline. Afterwards we continue hiking towards Coffee Bay. Once we have settled into in our overnight accommodation we will be greeted with a warm welcome from the local village residents. Tonight we will dine in typical South African cuisine followed by drinks around a fire and some killer pool for those who dare.  
Day 4: Coffee Bay to Mdumbi
After breakfast we head out early for a hike to Mdumbi, through the villages and parallel to the beautifully ferocious coastline. Use your newly learnt 'Xhosa' skills and greet passersby with a smile. Take photos of the ever-so secluded 'Mapuzi' beach and enjoy getting your feet wet in the crystal clear river then follow your guide towards the Mapuzi cliffs. Experience a natural Jacuzzi hidden within the caverns of these cliffs. Live a little differently- go cliff jumping or simply chill out and soak up the beauty of this unique area. After trekking a little further we will reach our next destination, Mdumbi. Sporting a long and pristine beach, once voted the most beautiful beach in South Africa, you can cool off in the Indian Ocean, sunbathe, go for a surf lesson or chill-out for the rest of the afternoon.
 Day 5: Mdumbi to Port Elizabeth
Today starts with some paddling as we explore the Mdumbi river with some exceptional bird viewing on offer. Afterwards we depart for Port Elizabeth. We will arrive in late afternoon.
Gallery
5 Day Central Wildcoast Explorer
Rates
Backpacker Dormitory Accommodation - R 8400,00 Per Person
Backpacker Private Room - R 9600,00 Per Person
3 Star Accommodation - R 10 800,00 Per Person
Tour includes:
• All ground transportation with an experienced guide/driver
• 4 Nights accommodation,
• Guided hike from Lubanzi to Coffee Bay (Inc. Hole in the wall)
• Guided hike from Coffee Bay to Mdumbi.
• Kayaking on the Mdumbi River
Meals included:
• 4 Breakfasts
Optional Activities: Surf lessons, yoga, brewery tour, horse riding, village homestay experiences, kayaking, canyoning.

Enquiries: [email protected]