Outdoor escapes in the Eastern Cape
Posted on Wed January 30, 2019.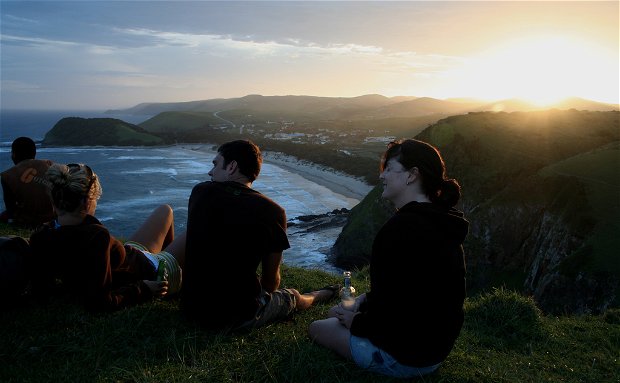 A new year brings along with it a desire for new adventures and while the city can be an amazing place, sometimes you just need an escape. We've rounded up four great Eastern Cape outdoor escapes, where you can get out of the city and take a nice big, deep breath.
Coffee Bay
Coffee Bay is the perfect place to enjoy this kind of tranquillity and escape into the heart of the Wild Coast. Getting to this picture-perfect destination is an adventure all on its own – the cows, goats and pigs that wander onto the road add an element of local colour. A magnificent and popular spot for visitors is the famous 'Hole in the Wall'. This extraordinary natural arch, where the sea comes rushing through, is steeped in Xhosa mythology and has captivated all its visitors. If hiking is your thing, try our 5-Day Central Wild Coast Explorer package for a chance to see Coffee Bay in all its natural splendour.
Adrenaline Addo
Addo is world-renowned for the wonderful wildlife that the Addo Elephant National Park has to offer, but if you're looking to go beyond game-viewing and increase your heart rate, then we have just the thing. Adrenaline Addo's zipline tour is the highest, longest and fastest double zipline in South Africa! The 500m-long twin cables should get you screaming for the moon (and your mom!), as you zip along at speeds of up to 60km/h across Sundays River while taking in the scenic environment. This hands-free zipline will have you feeling like you can fly, before the automated braking system brings the exhilarating ride to a safe and smooth stop. Our Surf and Safari package from the Garden Route to Addo offers adventurers this wild ride and so much more. 
Sardinia Bay Nature Reserve
When you need to get out of the city and reconnect with nature but you don't have much time to spare, give us a call. The pristine Sardinia Bay Nature Reserve just outside Port Elizabeth is where you can enjoy a two-and-a-half-hour Beach and Trail Horse Ride. A relaxing walk or canter on the beautiful Sardinia Bay beach is just what the doctor ordered!
Sandboarding in Sundays River
Sundays River is just outside the Port Elizabeth and is home to the famous Alexandria Coastal Dunefield – the largest and least degrading dunefield in South Africa. The dunes offer people who may not be as comfortable riding the great Indian Ocean waves in Algoa Bay the opportunity to still hop on a board and ride the dunes. This awesome sandboarding adventure can be made possible with our day trip offerings. Three hours of cutting up the dunes will definitely free you of those big city blues.